I knew nothing about Google Chromebook Pixel, here's my review
I had a chance to try out the new Google Chromebook Pixel. The device got released only a couple of months ago in February 2013. And it was hyped enough due to the fact that it's the first and only device that runs Chrome OS and has a set of good specifications.
About this review:
I'm doing this review as a tech savvy guy, who had no idea what Chrome OS was before getting this laptop. I'm mainly a windows user, and I would consider myself as a power user and not the type that just browses the web.


First impression on the Chromebook Pixel:
Honestly, I was amazed. The built and the feel of the device is exactly what you would expect from a $1,300 laptop. It felt light, solid, and a device that you'd carry around and get people looking at it and asking about it (which they did!)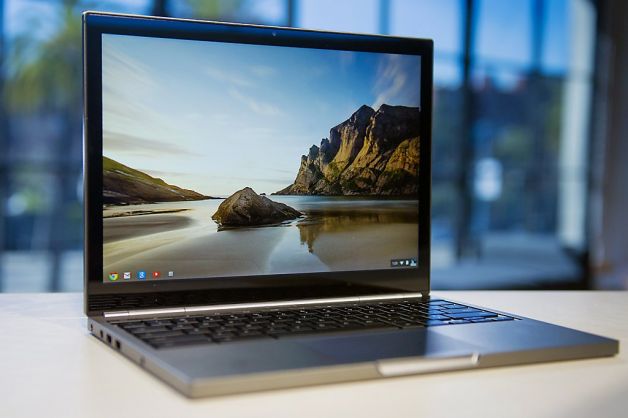 However, the operating system felt pretty weird. The initial setup was very fast and easy. But as soon as I reached the desktop, I notice these icons at the bottom. Cool, let's try Gmail, it opens the browser and goes to Gmail. I thought ok, didn't meet my initial expectation of having something different like the Android app. But I love the Gmail web interface.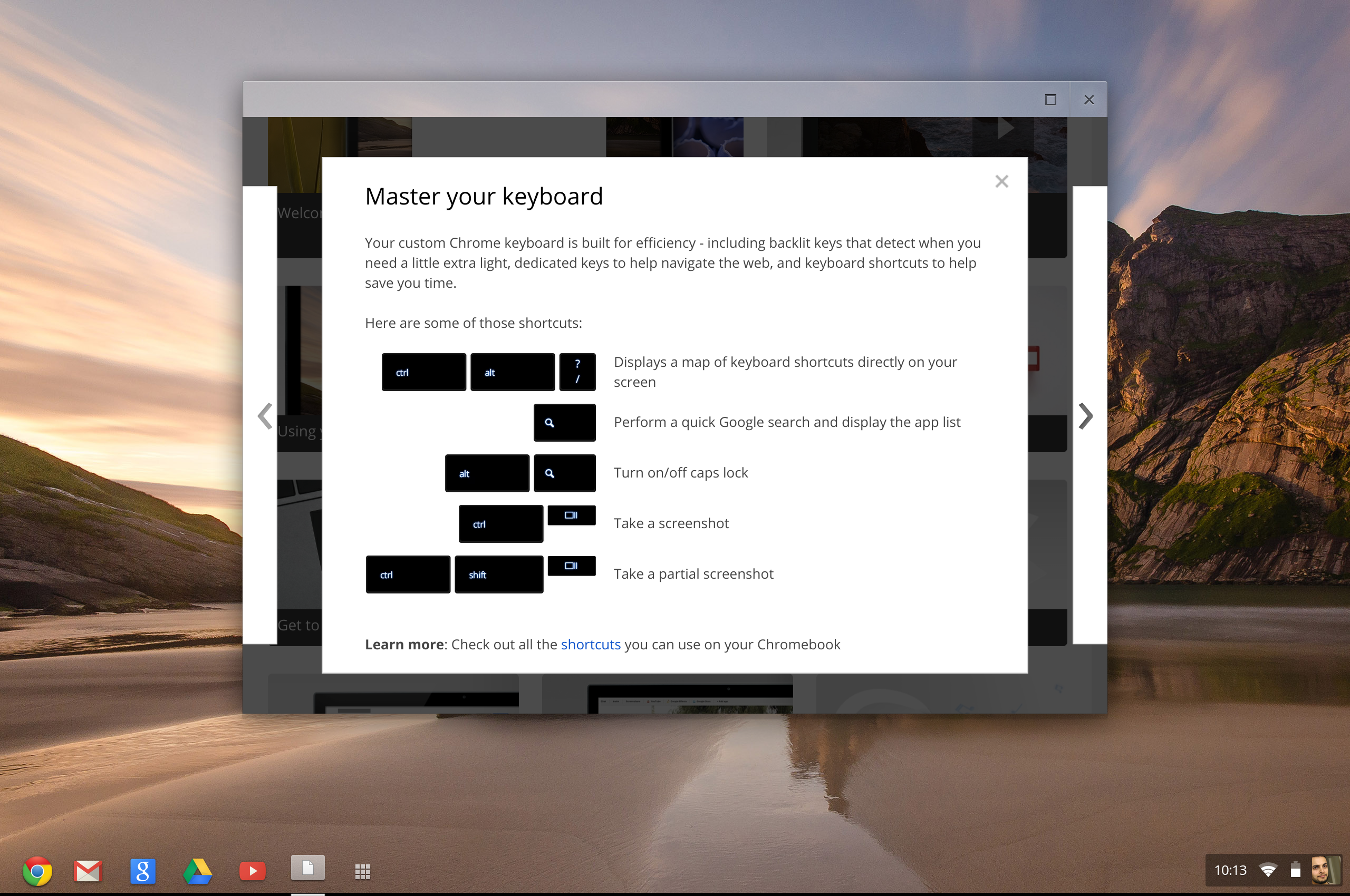 Then I try out all the other "apps" in the task bar and in the apps menu. All of them just open a new tab in the browser! It was like if I was clicking on links in my bookmarks more than anything. At that moment I felt a little disappointed, guess it's because I expected something more fancy from the $1,300 price tag.
Then I go ahead and chat with a friend on gtalk, I added the Arabic keyboard very easily, but it also was confusing when I clicked on the settings button at the corner of the screen and settings popped up inside the browser. I guess they totally meant it when they said it's a "Chrome OS" laptop. All the settings, WiFi, Bluetooth  languages, time and so on, are inside the browser settings.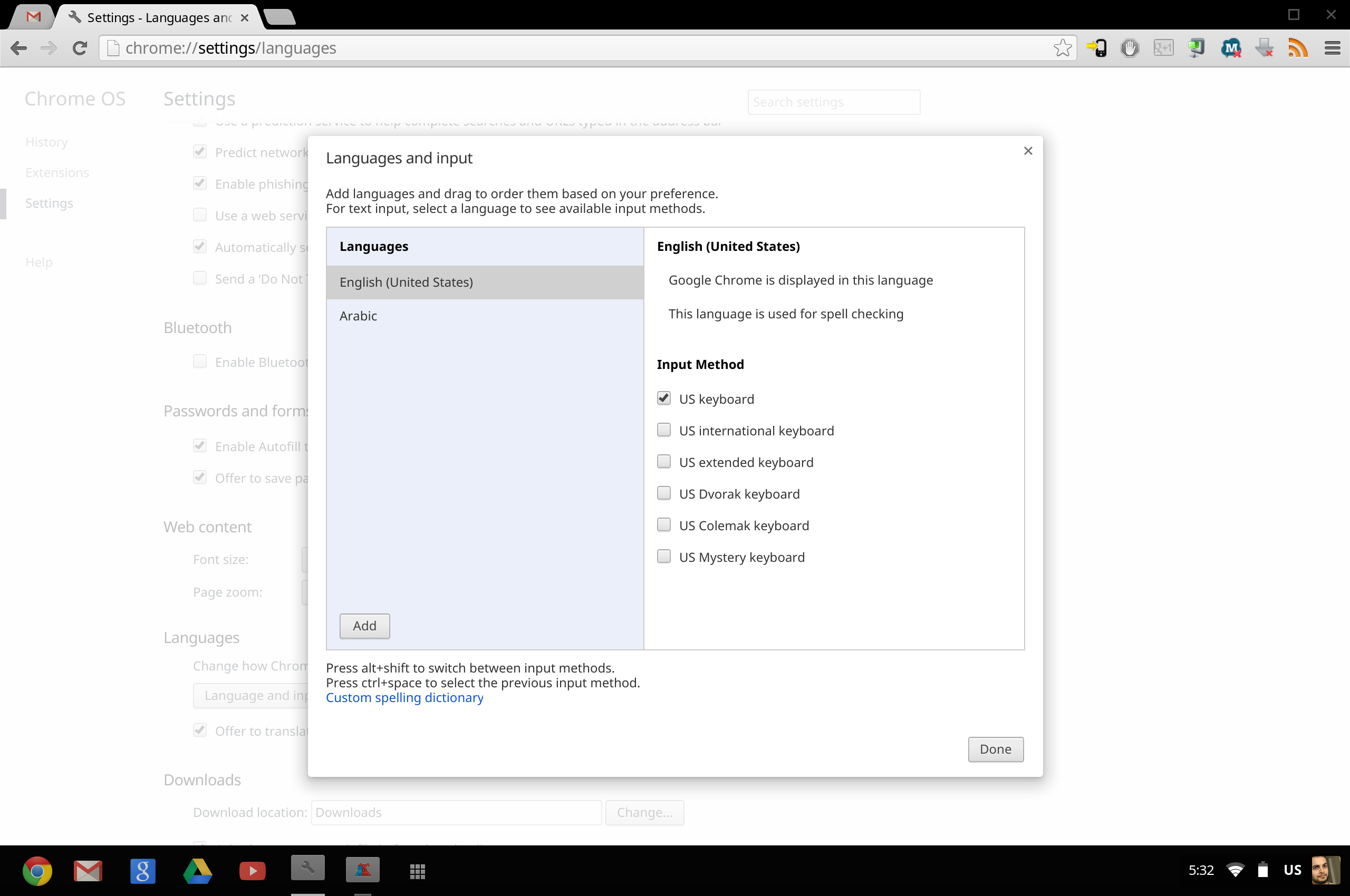 What I liked the most about the Google Chromebook Pixel:
The Chromebook pixel excels at being a very luxurious internet browsing device. It's fast, light, and the screen is just unbelievable. Text is so crisp and icons look amazing. The line of lights when you close the laptop gives a unique cool Google feel. The Chromebook Pixel is very usable for anyone who's a web user, blog owner, just Facebook user, or even for regular school work if Google Docs is enough for papers (Or Google Drive, I know about the name but I'm still used to the old one).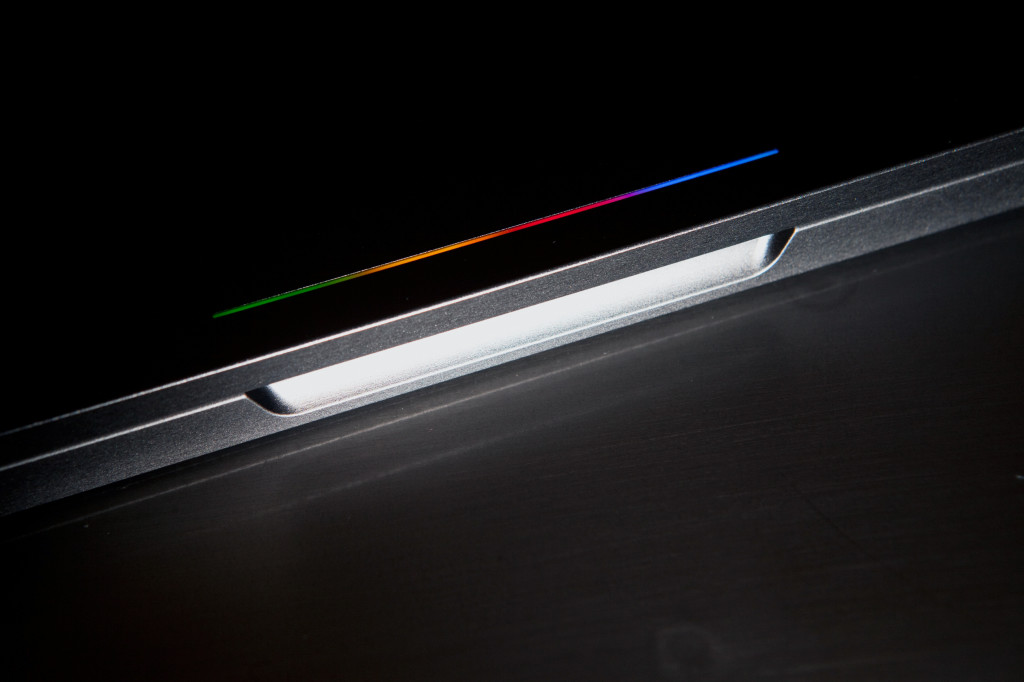 It's also so amazing as a multimedia device for movies and online videos. The screen is great as expected, but the speakers on this laptop are even better than expected. They are located below the keyboard and they're so loud and clear.
Multi-user management was also pretty cool and well done. You can make a few Google accounts on the Chromebook and switch between them flawlessly.
One thing that was also a very great addition, the free 1TB of space you get in your Google Drive once you login through the Chromebook Pixel.
And lastly, the touch screen was neat. Didn't use it that much as I did only browsing and it's not as useful as in Android apps for example.
What I hated the most about the Google Chromebook Pixel:
I think it's known at this point, but I hated that it's just a browser. A $1,300 browser! If you're okay with it being just a browser, it's still a very over priced one.
You will not be able to do major work on it like programming, or preparing big papers (more than 50 pages, because I'd say that less than that is possible with Google Drive). Also forget about image editing (Photoshop) or any multimedia creation software.
Specifications:
Here is a quick overview over the specifications of the Chromebook Pixel:
Technical Specifications
Feature
Pixel (wifi)
Pixel (LTE) 

Release Date
February 2013
April 2013 

Release Price
US$1299
US$1449
Size
297.7 × 224.6 × 16.2 mm
Weight
1.52 kilograms (3.4 lb)
Processor
Intel Core i5-3427U (Dual-Core 1.8 GHz) (CPU)
Intel HD Graphics 4000 (Integrated) (GPU)
Memory
4 GB DDR3 RAM
Storage
32 GB Solid state
64 GB Solid state
Screen
12.85″
2560 × 1700 (239 ppi)
3:2 (1.5:1) aspect ratio
400 nit brightness
178° viewing angle
Multi-touch
Gorilla Glass
Webcam
720p HD, integrated
Keyboard
Backlit
Touchpad
Clickable, etched-glass
Audio
3.5mm Combo headphone/mic jack
3 built-in microphones
Integrated DSP (for noise cancellation)
Stereo speakers
Ports
2 × USB 2.0
Mini DisplayPort
SD/MMC card reader
WiFi
802.11a/b/g/n
Dual-band (2.4 GHz / 5 GHz)
2×2 MIMO
Bluetooth
Bluetooth 3.0
Wireless
–
LTE modem
Battery
59 Wh (5 hours active use)
Included extras
1 TB Drive storage for 3 years
12 sessions GoGo Internet
100 MB/month free from Verizon (US) (LTE only)
Final thoughts, TL;DR:
The Chromebook Pixel is an amazing device, wonderful hardware, and very elegant. However, the critical point about it is its operating system (The Chrome OS). If you're sure you'll never need anything in a laptop other than the browser, then this is the laptop for you (if you can afford it of course :)). I personally think about this device the same way I thought about Android 1.0 , Android 1.5 devices; huge potential but currently not good enough as a main companion. It's lacking a lot of important applications and thus important functions for many people. These functions are of course missing due to the absence of a solid applications base, since you can only run web applications. If it at least had similar apps to Android for example, that would have been totally a different story.
I would suggest the cheaper ChromeOS devices at this point ($200-$400 price range) to the typical web user. And I'll wait until Chrome OS can become more useful to the power users who need more than just web applications.